Highly infectious virus affecting pigs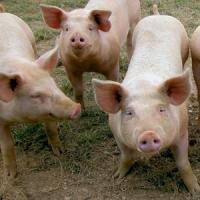 Porcine Epidemic Diarrhoea Virus (PEDv) is a highly infectious and often fatal virus affecting pigs.
A type of coronavirus - a species of 'enveloped virus' which affects mammals and birds, and includes SARS and a high percentage of the common cold in humans - PEDv is spread from pig to pig and can be controlled using thorough and effective biosecurity measures. PEDv infects the pig's small intestines and causes severe diarrhoea and dehydration and can be extremely serious, especially in newborn piglets where high impact strains have been reported to cause up to 100% mortality rate. It is harmless to humans and other animals and is not a food safety risk.
Since the 1970s, a mild strain of PEDv has been found within the UK and Europe but, at time of writing, no cases of the more dangerous strain of PEDv have been found in the UK or Europe. Outbreaks were reported in the USA and Canada in 2013, both of which were brought under control quickly, but it is also an ongoing problem across East Asia. In China in 2017, a related and new disease named Swine Acute Diarrhoea Syndrome (SADS) was identified as responsible for the death of over 24,000 piglets.
Within the UK, the Department for Environmental Food & Rural Affairs (DEFRA) announced in 2015 PEDv had been classified as a notifiable disease, meaning that it was now a legal requirement to notify the Animal and Plant Health Agency (APHA) of any suspected or confirmed case found in pigs in England. The APHA would then in turn notify the Agricultural and Horticultural Development Pork Board (AHDB Pork) who would advise on biosecurity to those at risk.
As a result of this classification, a PEDv Contingency Plan was published by the AHDB Pork, the key elements of which are "identify, contain and eliminate". High levels of biosecurity are crucial to halt the spread of the disease from farm to farm and the plan states "the effective elimination of PEDv is reliant on high-quality cleansing and disinfection."
Good hygiene will help prevent the 
 
 

Our high level soluble disinfectant powder, AntiBak Powder, has been tested against a broad range of viruses according to International standard EN 14476 with <99.999% kill rates in 1 minute, and has also been independently tested against Feline Coronavirus and SARS.

A broad spectrum disinfectant designed for use at a 1% dilution, AntiBak Powder is also independently tested and proven to be effective against bacteria, fungi, spores and mycobacteria.

AntiBak Powder has been approved by DEFRA under General Orders for use at 1 part to 80 parts water, ie one 50g sachet makes 4 Litres of effective disinfectant.

For more information on AntiBak Powder, please visit our product page here.
Posted on 26th April 2018
---
References: