Bio Technics are award winners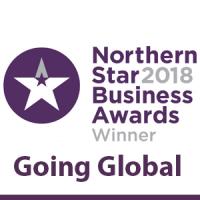 We're delighted to announce Bio Technics won the 'Going Global' award at last night's prestigious Northern Star Business Awards!
The black tie event, held at Aberdeen's Exhibition & Conference Centre and organised by the Aberdeen & Grampian Chamber of Commerce, saw 41 companies from the North-East of Scotland compete for 13 different awards across a range of categories including innovation, customer service and environmental action.
The Going Global award was given in recognition of a company having exceptional international growth and we were up against stiff competion from global payroll providers activepayroll and energy industry consultancy Add Energy - but in the end Bio Technics's successful growth overseas secured us the trophy.
Our parent company The OTL Group was also nominated for the Family Business Award but on this occasion we were beaten to it by the very deserving Laings Bathrooms & Kitchens.
Eleven members of the team attended the glittering ceremony and did a great job of cheering on MD David Evans as he took to the stage to accept the trophy in front of around 600 guests. All present agreed that the night was a tremendous success, with the award being a very welcome surprise.
To find out more on the international growth that led to this success and how you can be a part of the Bio Technics journey, please contact us.