Two Export Award Nominations for Bio Technics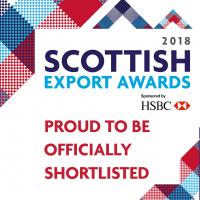 Bio Technics Ltd, a company specialising in the manufacture of water-based Hospital Infection Control products, is celebrating being shortlisted for two nominations in the HSBC sponsored 2018 Scottish Export Awards.  
The company is a finalist in two separate categories, including; Micro Exporter of the Year as well as Emerging Markets Exporter of the Year.
David Evans, Managing Director of Bio Technics Ltd said: "We're thrilled to be finalists in not one, but two different categories. For Bio Technics, exporting is an essential part of our core business strategy and the last twelve months has seen us achieve substantial business growth within our key export markets. We identified great opportunity in both established and emerging markets for our Endurocide Disposable Hospital Curtain range and after heavily investing in market cultivation and distribution development, we've seen export sales increase by 240%."
"We're pleased that our efforts and achievements have been recognised and we're proud to be nominated alongside all the other successful candidates.  We feel these awards highlight the global opportunities & potential available to all Scottish companies, no matter your size".
The Scottish Export Awards, sponsored by HSBC, bring together businesses from across Scotland to recognise and celebrate those entrepreneurial, wealth creating companies that are selling their products, services and expertise in overseas markets.
The finalists of all nine categories were announced last week and now a selection of Judges from HSBC, Scottish Development International, Strathclyde Business School and BQ will meet to discuss and decide the overall winners.
Bio Technics will find out the result at an award ceremony held in Glasgow on March 22nd 2018.